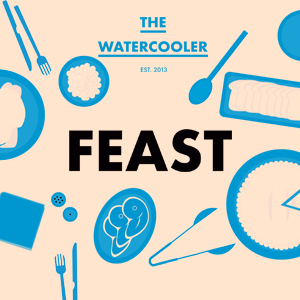 It's the most wonderful time of the year!
Come and indulge with us, and feed your souls with nourishing tales of food, family, and the festive season. We asked Alice Pearce, Adam Rohe, and Marianne Infante to set the table for us, as they share some truly delicious tales at the fiercest FEAST of the year. This Watercooler is a chance to forget your to-do lists and silly season stresses, and join us for a taste-bud tickling evening of sharing and general merriment.
Issue #43 is hosted by the ever-hilarious Donna Brookbanks, one of the pioneers of hit weekly improv show Snort, comedian, and actor. You might also know her from her work on Funny Girls, Jono and Ben and Shortland Street. Audio engineering by Todd Waters. Recorded live at The Basement Theatre November 23rd 2017.